Dental Implants Walnut Creek, East Bay
Dental Implants Presentation
To provide you with a better understanding of dental implants, we have provided the following multimedia presentation. Many common questions pertaining to dental implants are discussed.
Why Visit Dr. Alijanian for Your Dental Implant?
There are many dental implant providers in Walnut Creek and it can be difficult to choose the best one. We set ourselves apart with state-of-the-art office, modern technology, professional staff and our expert board-certified oral surgeon, Dr. Alijanian. Dr. Alijanian has been offering dental implants in Walnut Creek for over twenty years and is regarded as a dental implant expert in the oral surgeon community. He actively lectures and trains his colleagues in his state-of-the-art training center. Whether you are considering a single tooth implant, All on 4 hybrid implant prosthesis or implant supported overdentures, our office would be happy to assist you. Dr. Alijanian is one of the few surgeons in the Bay Area that places zygomatic implants. This complex treatment simplifies care for patients who are suffering from severe bone loss in their upper jaw. Contact our Walnut Creek oral surgery office today to learn more about why Dr. Alijanian is the specialist of choices for many patients in the East Bay!
What Are Dental Implants?
A natural tooth consists of a root and a crown. If you compare natural teeth to implant-supported replacement teeth, you'll see they have the same basic parts. Both have a crown (the visible part used to chew food). Both have a root that holds the tooth securely under the gum and is anchored into the jaw. The difference is that the implant is made of titanium – the same time-tested material used by surgeons for artificial joints. When you lose a tooth, you lose both the root and the crown. To replace the tooth, the surgeon first replaces the root with a small dental implant.
Time is allowed for bone to heal and grow around the dental implant. The bone bonds with the titanium, creating a strong foundation for artificial teeth.  A support post (abutment) is then placed on the implant and a new replacement tooth (crown) is placed on top of the abutment. In many cases a temporary replacement tooth can be attached to the implant immediately after it is placed. If all of your teeth are missing, a variety of treatment options are available to support the replacement teeth.
Don't Settle For Missing Teeth!
Dental implants are natural-looking replacement teeth that can renew your smile.
Contact us today to learn more!
"Don't be afraid to Smile."
For years I'd felt like a part of my body was missing — because my teeth were. My dentist told me that dental implants would make me feel and look a lot better. OK, I said. Now, I'm thrilled. I can smile, eat anything, and enjoy a good laugh with my friends.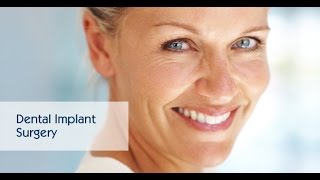 Surgical Advances
Using the most recent advances in dental implant technology, Dr. Alijanian is able to place single stage implants at his state-of-the-art office in Walnut Creek. These implants do not require a second procedure to uncover them, but do require a minimum of six weeks of healing time before artificial teeth are placed. There are even situations where the implant can be placed at the same time as the tooth extraction – further minimizing your number of surgical procedures.
Dental implant placement is a team effort between an oral and maxillofacial surgeon and a restorative dentist.  Dr. Alijanian performs the actual implant surgery, initial tooth extractions, and bone grafting if necessary.  The restorative dentist (your dentist) fits and makes the permanent prosthesis. Your dentist will also make any temporary prosthesis needed during the implant process.
Schedule your Dental Implant consultation today to find out why Dr. Alijanian is the specialist of choice for many patients in Walnut Creek and the entire East Bay!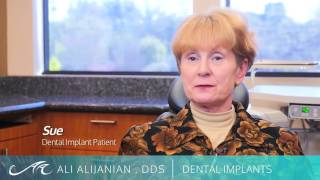 We're Here To Help!
Call us with any questions or to schedule an appointment.
---
Read our reviews to learn why Dr. Alijanian is the specialist of choice for dental implants patients in Walnut Creek, Concord and the entire East Bay!
Ali Alijanian DDS
5
out of
5
stars based on
45
Dental Implants reviews.
---
Patient Testimonial
`I would like to inform the whole world, that Dr. Ali Alijanneian has mastered the techniques and use of materials needed to deliver beautiful dental work with a gentle and quick touch and consistently excellent results. Faezeh Fakhrai Los Gatos
– Faezeh F
Patient Testimonial
Dr.Alinjanian is super good in his practice. So happy with the outcome. I highly recommend him to do dental implants to anyone who needs dental implants.
– Donna H
Patient Testimonial
I have been very satisfied with the dental work which has been don in this office. I wish Dr. Alijanian spend a little more time explaining and answering the questions I had.
– Ali B
Patient Testimonial
The entire process was quick and easy. Fantastic job by all.
– Daniel S
Patient Testimonial
Great office staff
– Nicole F
Patient Testimonial
Overall very satisfied
– Ali D
Patient Testimonial
This dental office is very high level. They use very modern technologies. Dr Alajanian is the most skilled dental surgeon I ever met. I would highly recommend this dental office.
– Alex L
Patient Testimonial
Easy care and treatment plan was great!
– Anna L
Patient Testimonial
Just great
– Jerome boson P
Patient Testimonial
Quick visits. Always given information. Made sure my questions, if any, we're answered. A very pleasant experience every visit. : )
– Kim S
Patient Testimonial
Excellent care and service; highly recommended!
– Charles O
Patient Testimonial
For something that was uncomfortable the staff and the do tot made it as easy as possible.
– Heidi D
Patient Testimonial
Great staff & Doctor Best I've been to!!!!
– Devannie B
Patient Testimonial
Good experience every time I came.
– Sarah B
Patient Testimonial
Great experience overall, would highly recommend.
– Eric T
Patient Testimonial
Outstanding service! Very frindly and professional caring .
– Mohammad D
Patient Testimonial
Best quality care and all modern facilities
– Pradeep K