At Ali Alijanian, DDS, we believe in giving back. We appreciate and are dedicated to our families, our patients, our colleagues and the surrounding communities of East Bay, Contra Costa, Alamo, San Ramon and the Bay area, California. Our oral surgeon and our team want to help make Walnut Creek better and partner with different charity organizations throughout the year to host and support a number of philanthropic events. If you would like to get involved, stop by our office or give us a call at 925-934-7888 to learn more.
We have partnered with these organizations throughout 2022 to 2023. Let us take care of our community together!
In 2007, we began "Pay It Forward Day" in our local community. Oral surgery is coordinated with the general dentist and completed at a reduced or waived rate for those patients who qualified and could not normally afford to receive their much-needed dental care.
Goal: 100 coats.
Results: 350 coats and $350 in cash donations.
Goal: One box of toys.
Results: Two full boxes.
Donation: $500 in advertising ads to support the Halloween Kids Safe Carnival.
In 2009, we collaborated with Contra Costa Health Services Health Care for the Homeles to help create a better place for each other, for our children and for our community. Individual providers made small contributions of time, but as a group, we are able to restore people's oral healthy and dignity, vastly improving the quality of life and increasing the potential these people have to regain employment and provide for their families.
In 2008, we hosted our first charity lecture for the California Dental Association Foundation in an effort to raise money for the foundation's flagship programs, CDA Cares and the Student Loan Repayment grant. In exchange for a donation amount of their choice, which Dr. Alijanian matches, attendees are given the opportunity to earn CE units and hear Dr. Alijanian speak on various topics, educating them on his specialties, including the All-on-4® Treatment and hard and soft tissue management. As of today, Dr. Alijanian has raised over $42,000 to support the CDA Foundation, helping those who are less fortunate and selected dental students reach their career goals.
Awards
Walnut Creek, CA — Ali Alijanian, DDS has been named to the winning list of Nextdoor's 2023 Neighborhood Faves, the only annual awards where neighbors vote to celebrate their favorite local businesses. This year, Neighborhood Fave winners like Ali Alijanian, DDS will receive greater visibility and ranking on the Nextdoor app as well as a sticker to showcase their win in the real world.
"Neighbors know best, and Nextdoor's Neighborhood Faves are the only annual awards celebrating the businesses that are most loved by locals. This prestigious recognition is only awarded to 1% of the local businesses on Nextdoor and is a testament to the positive impact they have had on their community," said Nextdoor CEO Sarah Friar.
Used by one in three households in the US, Nextdoor is the neighborhood network where verified neighbors and businesses connect to the neighborhoods that matter to them.
"Thank You for making us your specialist of choice!"
The complete list of winning businesses in each city is available at nextdoor.com/favorites. Join the neighborhood network by downloading the Nextdoor app or visiting nextdoor.com..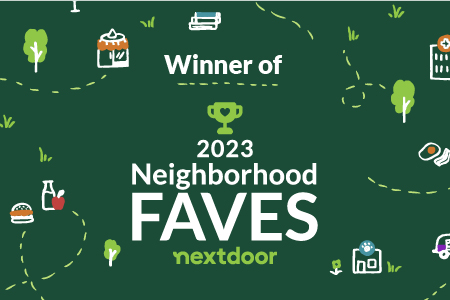 The Contra Costa Dental Society and the CDA Foundation elected Dr. Alijanian as the 2009 Exemplary Volunteer of the Year for his influence in various charity events and organizations in the area. He was also the recipient of the 2014 James M. Pappenfus Award, the Contra Costa Dental Society's highest award. This award recognizes Dr. Alijanian's outstanding service and dedication, as well as his efforts to practice and promote the field of organized dentistry to its highest and ethical standards in both the private and public domains.
Additional achievements include:
KRON4's Best of the Bay Oral Surgeon Contra Costa County
NBC's The Best in Bay Area Medicine 2010 Top Doctors and Dentists for Doctors Improving Healthcare
Patients' Choice Award — one of California's Favorite Dentists (2012)
Opencare's Patient Choice Winner (2015) & Top 20 Walnut Creek Dentists (2016)
City Beat News Spectrum Award (2015-2018)