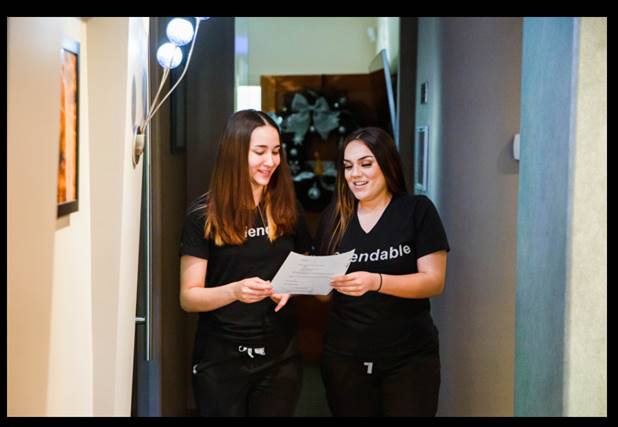 We want you to be prepared when you meet our oral surgeon, and we encourage you to ask any questions you have so that you can feel prepared for your procedure here in Walnut Creek, California. If you are going into surgery, there are certain rules you must follow before your operation:
You must not eat or drink anything eight hours before your surgery.
Patients under 18 need to be accompanied by an adult.
Brush and floss your teeth extremely well the morning of your procedure, especially in the back of your mouth.
Do not wear makeup, jewelry, nail polish or contact lenses on the day of your surgery.
Wear loose, comfortable clothing with short sleeves and appropriate shoes. No slippers or flip-flops.
You must have a responsible adult drive you to and from your appointment, and they must stay in the reception room during the surgery with your personal belongings. Dr. Ali Alijanian will not start the procedure unless your companion is present.
Your companion must take care of you for up to six hours after the procedure.
If you are prescribed antibiotics, take two pills the night before your surgery and two pills two hours prior to your surgery with just enough water to swallow them (less that ¼ cup) or as directed by Dr. Ali Alijanian.
You will be asked to urinate just before your procedure.
Note that if you are taking birth control pills, antibiotics will decrease their effectiveness.
Once Dr. Ali Alijanian has completed your procedure, you can feel discomfort, bruising from the IV in your arm, possible nausea and a slight fever. For these side effects, Dr. Ali Alijanian makes certain recommendations.
Discomfort
Anesthesia usually lasts four to six hours after your surgery but can last up to 12 for lower sites. Once it wears off, take prescribed Motrin 800mg for the pain with milk, a shake or a large amount of water. Be sure to take the medication before the anesthesia wears off completely. Do not take your prescribed medications on an empty stomach.
Nausea
The medications we use during and after your surgical procedure may cause nausea. If so, avoid dairy products and drink clear liquids in small amounts until the symptoms disappear. If the nausea continues, call our office at 925-934-7888 to ask for anti-nausea medication.
Fever
A slight fever is merely a symptom from lack of fluid intake. Be sure to hydrate well with clear liquids, and the fever should dissipate.
Bruising
Your arm or hand may be bruised from the IV needle, causing it to be inflamed to the touch. Be sure to put an ice pack on the area for 30 minutes and then off. If the inflammation is still present by the second day, please contact our office.
Nutrition
Eating and drinking is crucial to the healing process but can be difficult after oral surgery. Dr. Ali Alijanian encourages you to keep up your calorie and protein intake as best you can and to follow all nutritional guidelines according to the food pyramid. Here are some dietary suggestions for your recovery:
After general anesthesia, drink only clear liquids (water, 7UP®, apple or grape juice, cold tea or cold coffee) for the first 24 hours. Do NOT use a straw for that duration. If you still feel hunger, this can be followed by soft foods like Jell-O, pudding or ice cream.
After the first 24 hours, progress to a soft diet for two to three days. This includes soup, mashed potatoes, and soft chicken or fish. Depending on the level of texture and chewiness, we recommend a blender to soften foods. Avoid spicy or acidic foods like lemonade or orange juice. Avoid alcohol for 48 hours.
After three days, gradually progress to solid foods as far as you can tolerate. Avoid crunchy foods like nuts and popcorn. If you are waiting to receive permanent dentures, continue with the soft diet until you have received them.
Wisdom Teeth/3rd Molar Post op Instructional Video:
For more specific instructions regarding certain procedures, click below.